In the DRC, many parents struggled to pay school fees for their children's education. ACCELERE!1 leveraged existing cultural traditions to help families earn and save money to keep kids learning.
---
Across the 26 provinces of the Democratic Republic of Congo (DRC), 7 million children face barriers to learning. They cannot attend sessions where classmates in white and blue uniforms recite lesson plans, write on green chalkboards, or study books under campus trees. These children have been withheld from school because their parents couldn't afford school fees.
Their parents have historically lacked organized means to save for school and increase income for their households. However, this has changed with the emergence of ACCELERE!1, a USAID- and UK Aid-funded project, which applies a community savings model that taps into pre-existing community resilience and savings customs.
School Fees and Hard Choices
In the DRC, parents pay for three-quarters of school costs — covering everything from teachers' salaries to office expenses and cleaning. Moreover, teachers' salaries are among the lowest of public sector professions, so the government levies school fees to "top them up."
Some local, provincial, and national authorities further levy arbitrary school fees, referred to as "ventilation," which have little to do with the operational costs of education. For example, in one province, ventilation fees cover school database, printing of data forms, and school field trips. Although it faces political obstacles, the DRC's government is trying to address budgetary shortfalls for the fees covering teacher salaries. However, whether justifiable or arbitrary, the fees place a burden on economically vulnerable families.
Christine Nabarungu, a mother in Goma, North Kivu Province, couldn't afford classes for her family at the local Centre de Rattrapage Scolaire (CRS), or Alternative Learning Center. "I'm a widow with four children," Christine said. "Two of my children are second graders at CRS Victoire. I used to sell potatoes, which didn't allow me to keep my children in school."
Monique Balaye, a mother living in Mbandaka, Equateur Province, faced a similar dilemma. In 2018, she was unable to afford fees to send her children to school. "I have four children, three of whom went to school," Monique said. "I couldn't send my children to school anymore because I had financial problems."
Both Monique and Christine — and thousands of other parents in the DRC — broke through these financial barriers thanks to ACCELERE!1's innovative community savings model, which involved collaboration with local partners.
Accelerating Opportunity
Launched in May 2015 with joint funding from USAID and UK Aid, ACCELERE!1 ("accelerating" in French) strives to reach and keep vulnerable children in school within crisis and conflict areas. ACCELERE!1's project team attempts to improve educational outcomes for Congolese children via enhanced teaching and learning in the national languages and in French, bolster reading through high-quality instructional materials and teacher effectiveness, increase transparency of school governance, and reduce barriers to education. It is this last component, implemented through Chemonics and Congolese stakeholders, which taps into existing community attributes.
Community Is Key
The inclusion of community savings groups (CSGs) as part of ACCELERE!1's microfinance package is essential to making this approach sustainable. The Congolese, like people in many sub-Saharan African cultures, have traditional community savings models and community practices of self-help and mutual aid. These traditions are enriched by moral and social compacts that are difficult to violate within their communities, thus making savings groups more likely to thrive. The project tapped into this existing cultural practice across several steps.
The ACCELERE!1 project helps remove the financial barriers to education by applying a community savings model. The project awards grants to competing civil society organizations (CSOs), which then provide seed kits and ongoing support to qualifying parents. These kits can consist of oil, flour, sugar, legumes, smoked fish, or other local staples with a consistent supply-and-demand cycle. Parents then use the kits to establish income-generating activities (IGAs), like an open-air, roadside store. The seed kits are the main source of income for most parents, allowing them to provide for their families and keep their children in school.
Christine received a kit from a local CSO. "Anna Micheli CSO helped to strengthen my business so that I can provide for my family," she said. "I can now keep my children in school because nowadays, in addition to potatoes, I also sell plantains, oil, and soap."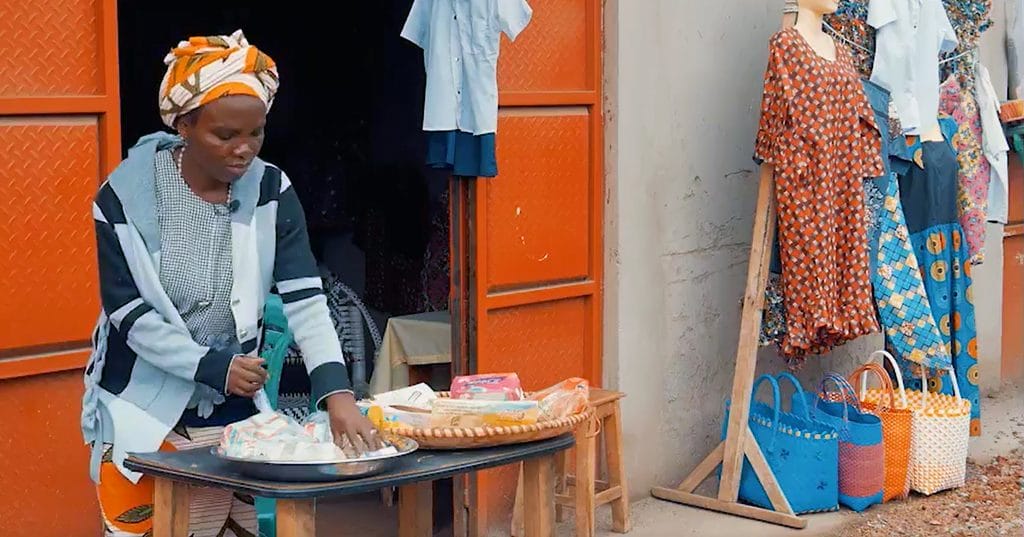 In exchange for these kits, parents commit to setting aside some of their earnings to pay for school fees for a year via CSGs. CSGs are managed by community members, and their priorities and guidelines differ by region. Members elect their presidents, secretaries, and bookkeepers based on their CSGs' particular statutes.
Although each CSG is different, the expectations for each are consistent. The CSGs not only pool parents' resources to pay for school or to serve as education funds; parents also pool resources for solidarity funds that cover general expenses such as weddings or new businesses and health funds for unexpected medical costs. Each CSG determines the amount each member pays, based on their economic and social situation. For example, in one group, each member contributes 2,000 Congolese francs once a week to ensure that parents pay school fees. Meanwhile, ACCELERE!1 also provides basic training and office supplies to help members manage CSGs, allowing parents to effectively track incoming and outgoing funds.
The selection criteria for parents to join CSGs depends on each group's statutes, because needs vary in each community. Enrollment in CSGs is voluntary; members know each other, choosing to join or leave based on the trust established by their existing relationships in the community.
A Return to School and the Promise of Possibility
To date, because of ACCELERE!1's microfinance IGAs, more than 15,000 children have attended school. 
According to Régine Nsimiri, director of the CRS Victoire school, CSGs (also called village credit associations, or VCAs) provided inroads for vulnerable students who lacked resources to an education. "Students were less likely to attend school before VCAs' activities," she said. "Since then, many students finished the school year and regularly attend classes. They're no longer removing children from school for a lack of payment of school fees."
With a primary source of income from the seed kits, parents like Monique now have the financial freedom to return their children to class without it diverting from other household expenses. "Since I started with my business, I can keep my kids enrolled in school," she said. "And I pay their school fees properly."
A total of 6,554 parents participated in 4,159 individual and collective IGAs valued at $100 per parent/IGA, and 146 CSGs have now been established, with the participation of 2,920 households. The ACCELERE!1 project also trained 33 CSOs to continue supporting microfinance in their communities, even during crises on a global scale, such as COVID-19. As COVID-19 cases rose in the DRC, and schools closed to curb the impact of the pandemic, ACCELERE!1 assisted participating communities with transitioning to distance learning so that primary school-aged students could continue their education. This support included creating interactive radio lessons in the Kiswahili, Lingala, and Ciluba languages.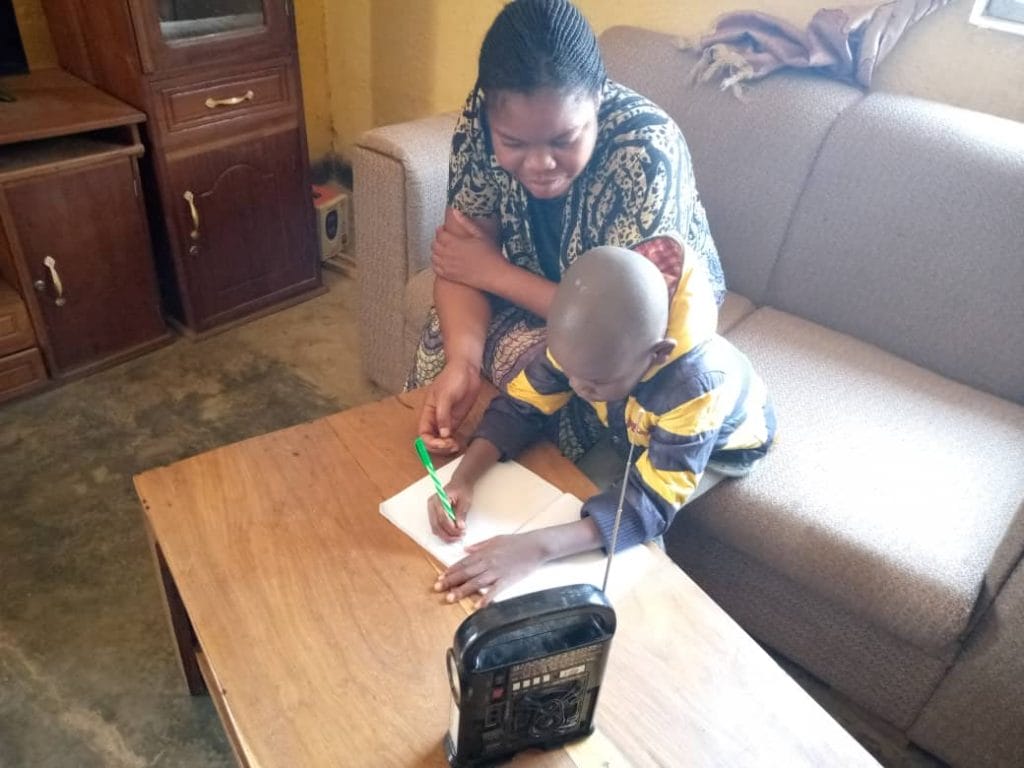 Sustainability from Within
ACCELERE!1 concludes in September 2021. By design, it offers one-year project intervention grants to each community it serves; beyond that, the parents with successful IGAs will continue contributing to CSGs and paying for school fees in the years to come. Meanwhile, CSOs are receiving training on sustainable saving practices to ensure that CSGs remain solidly established and sustainable. ACCELERE!1 has also developed rapport with private sector partners in the DRC, who now see the merits of investing in education and their local communities.
Parents involved in the IGAs also maintain this dedication to sustainability, advancing their businesses beyond the items sold from seed kits to selling products based on local market demand. "I usually sell rice, but when sales are slow, I propose other items to my customers," Monique said. "Those who were driven out of school because we couldn't afford the school fees benefit from this activity today."
Banner image: Grade 2 students from Lubumbashi, DRC hold Kiswahili school materials distributed by ACCELERE!1 in 2019.